Ok,
you've been waiting for it
. There's nothing like making your own bread to save money, be frugal, and ensure you are feeding your family the best, most nourishing foods.
This is...
hands down
...
the best whole wheat bread recipe I've ever found
. Although I love the 'idea' of making whole wheat bread from scratch and from fresh ground wheat, my previous recipes were hit and miss. Usually my first attempt at a whole wheat recipe would turn out wonderful, but each subsequent attempt would render me a hard brick loaf.
My hubby refused to eat the hard breads. And I mean they were dense. He really likes those store bought, soft dinner rolls... but my old attempts were the complete opposite. Closer in similarity to rocks, actually.
Then one day we were invited to a friend's for dinner. She served a loaf of soft, squishy, light and fluffy whole wheat bread. I was floored to find out it was homemade. No. There was no way. You mean the dream IS alive?!?!
She sent me the recipe, and with a hearty dose of cynicism, I set to work and tried it out.
It. Worked.
I actually made bread that was akin to those dinner rolls hubby adores so much.
I practically want to shout this recipe from the rooftop, I'm as excited as this as I was with my
Garden Vegetable Quinoa Casserole
. With my friend's permission, here is the recipe for sharing: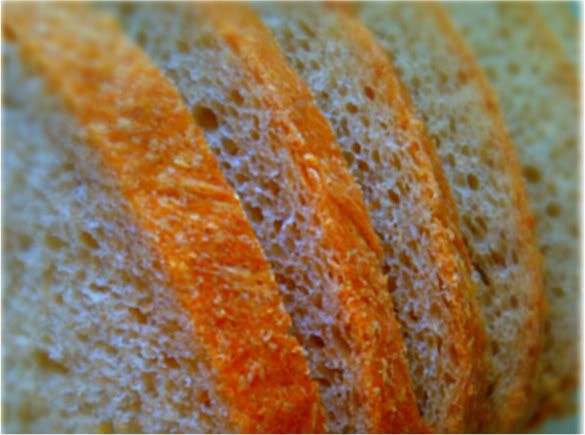 3 cups water
3 T yeast
3 T sugar
1/2 cup oil
1/2 cup sugar (Or use about 1/4 cup honey, 1/4 cup sugar and a little bit of molasses for a little flavour)
3 eggs
1 T salt
3 more cups of water
2 T lemon juice or vinegar
6-8 cups white flour
7 cups ground whole wheat
Mix together water, yeast and 3 tbsp sugar. Set aside for a few minutes to let yeast activate.
In mixer, combine oil, 1/2 cup sugar, 3 eggs, and 1 tbsp salt. Mix these well, then add the yeast mixture along with 3 more cups of water, lemon juice, and 7 cups whole wheat flour. Mix together, then let sit and sponge 20-30 minutes so the whole wheat can soak up the moisture.
Add white flour enough to keep a sticky dough, probably about 6-8 cups. Go by the feel.(In my bosch as I add flour it stops sticking to the outside bowl first then I keep adding flour watching the inside post. As soon as it stops sticking I know it's enough flour. I keep a sticky dough because it will firm up a bit as it raises and soaks up even more moisture). Let it knead for 6 or 7 minutes and turn into a buttered bowl and cover with a tea towel or plastic wrap. Let it rise twice, flipping over after punching. Don't force the rising with heat - a longer raise at room temperature lengthens the shelf life of bread.
Form into 6 loaves. For each loaf flatten the dough into a kind of rectangle and roll it tight squishing and tucking the ends over to make a more uniform and pretty raised loaf. Butter the tops and let raise until double then bake around 20 minutes at 350 F.

I am linked at: